Bausch and Lomb Stereo Microscopes

Craftsmanship and Value
Bausch and Lomb Stereo Microscopes are just one part of a large portfolio of products that the Bausch and Lomb company has produced over its 150 year history.
While they are primarily known by the majority of the general public for their work in the arena of contact lenses, Bausch and Lomb had a long tradition in making high-end optical products such as binoculars, telescopes, and microscopes. 


Well Crafted Microscopes
While they did have a many years in making industrial optical instruments, in 1985 the company decided to forge off into new directions.
They sold off any interests in microscopes and ophthalmic instrument production, but because of their high level of craftsmanship, many of their microscopes are still in use.
Some of the company's older models are also collected as antiques.


Compound vs. Stereo Microscopes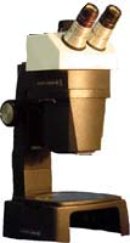 Baush & Lomb
Microscope from
MartinMicroscope.com
Bausch and Lomb's original endeavors with microscopes were with compound models using a single lens.
These compound microscopes have some advantages over stereoscopes.
Most compound microscopes are more powerful in terms of magnification when compared with stereo microscopes, but stereo microscopes have their distinct advantages, too.
Stereo microscopes offer a depth perception a compound microscope cannot deliver, as well as providing a dimensional view of a specimen or sample.
This three dimensional view can be exceedingly helpful in getting a realistic perspective on a specimen.
While they were producing optical instruments, the company produced several lines of Bausch and Lomb stereo microscopes and these product were renowned for their clarity and image quality.
Stereo microscopes allow the user to review a specimen or sample from two different angles while viewing it independently from each eye.
Most modern stereo microscopes employ an erecting prism that is similar to a pair of binoculars. The use of this prism allows for improved viewing and easier manipulation of a specimen.
These microscopes are used in a wide range of fields including in health research and medical diagnosis along with scientific research.
They are also used in industry for product research and development along with assessing quality control.


Early Bausch and Lomb Stereo Microscopes
One of Bausch and Lomb's earliest stereo microscopes was the Bausch Lomb 2 Position Stereo microscope.
It used an integrated approach with central optics of the microscope being connected with the stand.
This microscope offers the ability to view specimens at both 10x and 30x magnification.
This 2 Position microscope offers a tilting head, adjustable slide height, and clip system to hold slides steady while examining them.
Another early line of Bausch and Lomb's stereo microscopes was their Stereo Zoom on a Boom.
This style of microscope employed a stand that had a boom-like extension allowing the user to move the entire central optics of the microscope freely over a stationary object.


Bausch and Lomb Pod-Approach to Microscopes
Bausch and Lomb later developed an innovative approach with several line of their products.
Instead of creating a stand-alone microscope, they developed a pod concept.
The pod would contain the central optics of the microscope and were made independently from the stand. Therefore, owners could use the same set of optics across various settings using a stand that could accommodate the microscope optic pod.
Some of the basic pods offered 10X magnification, but the degree of magnification could be easily increased by changing out the optic system on the pod.


Bausch and Lomb Stereo Microscopes: Models
One of the leading products in Bausch and Lomb stereo microscopes was the Bausch and Lomb StereoZoom Microscope.
This product line started with the StereoZoom 1 and continued through the StereoZoom 7.
This line of products uses the pod concept of containing the central optics of the microscope in a single, pod-like system.
Users would either have to utilize a Bausch and Lomb stand or their custom stand to properly utilize the microscope.
Another innovation with the StereoZoom 7 was the inclusion of a built-in source of illumination. This built-in light allows for better viewing of specimens and samples.
The StereoZoom 1 was the first microscope in this product line. It has a 45 degree binocular angle and offers 10X magnification.
The StereoZoom 2 offers 10x magnification and came with a 28mm eyepiece. These earlier models did not have a wide range in their zoom functions, but later models did.
The StereoZoom 4 had a limited zoom range with ratio of .7x to 3x.
The StereoZoom 5 had a zoom ratio of 8x to 40x and when the StereoZoom 7 came to market, it had a zoom ratio of 7x to 30x.
While it was producing optical instruments, Bausch and Lomb were considered leaders in providing clear and high quality images.
Bausch and Lomb stereo microscopes were no exception to this high standard of quality and even though the company no longer makes these products, because of their quality, they are still widely used throughout many industries, labs, and hospitals. 
Return from Bausch and Lomb Stereo Microscopes to Stereo Microscope 
Understand more about Antique Microscopes here 
Return from Bausch and Lomb Stereo Microscopes to Microscope Reviews Home
Find out how to advertise on MicroscopeMaster!