Nikon Microscopes for Biological Use


- Choosing the Eclipse 55i or the E200 -
Since manufacturing began in 1925, Nikon microscopes are the established benchmark for precision microscopy.
In the past Nikon was more popular for its strength in industry but now has a very complete line of biological microscopes with attention on ergonomics, easy automatic performance and adaptability to the full scope of microscopy imaging techniques used today. 

The Eclipse 55i
As with all microscopes from Nikon, the 55i is engineered for powerful optical imaging, ease of use and provides a comfortable ergonomic design to aid the user during extended viewing periods.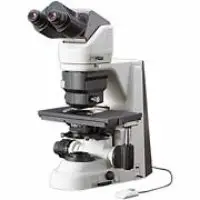 Nikon 55i Microscope featured
at SEOEnterprises.com


A longer parfocal distance of 60mm allows for greater resolution and the ability to place accessories within the optical path.
This instrument has 10-1500x magnifications, a built-in LA60 color balance filter and an LED illuminator that doesn't generate heat that can harm specimens.
Additionally, the Eclipse 55i advanced features include:
Nikon CFI60 Optics
Refocusing stage
Stay-in-position stage handle, regardless of x-y position
Ergonomic Eyepiece Tube, adjusts 10-30 degrees and extends up to 40mm
Convenient Controls on the lower right-hand side
Epi-fluorescence Illuminator
Designed for laboratory use, this Nikon microscope is useful in the fields of cytology, forensic science, genetics, histology and pathology.
Although it does not provide the same degree of automation as, for instance, the 90i, the Eclipse 55i is a microscope for serious scientific research. The E200 described below is considered an solid microscope more for educational or simple laboratory settings.


The Eclipse E200
Several Nikon microscopes feature the CFI60 optics, but this is the first basic research or educational microscope to incorporate this system.

A compound model with superior imaging, the E200 provides flexibility through its ability to be customized.






Similar to other Nikon instruments, a comfortable configuration and operational ease are inherent in the design.
A wide footprint and one-piece construction make this a stable platform resistant to vibrations.
Eyepiece tilt and height can be adjusted for comfortable periods of long use and controls are arranged for one-hand operation.
Other notable features include:
Advanced Eyepieces, 10x and 15x with separate diopter adjustments for each eye
Refocusing Stage
Upper Limit Stop to prevent contact between the objective lens and specimen
Anti-mold Design
As with most Nikon microscopes, upgrading the E200 is possible with a host of available accessories. To meet different viewing requirements, Abbe, Phase and other Eclipse series condensers can be used on the E200.
An epi-fluorescence attachment allows fluorescence and UV observations. To observe crystals, a polarizer is available that fits over the field lens.
Side-by-side and face-to-face teaching heads are advantageous for student instruction along with a drawing tube – a unique accessory that facilitates specimen sketching.
A trinocular eyepiece tube allows for a digital camera system.
Nikon has a reputation for producing clear optics and E200 is no exception. Easy to use and solidly built, this is a versatile, durable instrument.
Though considered a more basic microscope as compared to the Eclipse 55i, some consider its price high for the features offered.

Nikon's Interchangeability
As for use with other microscopy imaging techniques, the Nikon Eclipse E200 to do fluorescence microscopy is a more than sufficient instrument to use in any microscopy lab.
When an upgrade is possible to, for instance, an Eclipse 80i research scope, the end-user is able to just transfer the fluorescence unit to the 80i model without incurring any additional costs.
A true benefit is that Nikon Scopes are fully upgradeable and so the Eclipse series easily interchanges accessories with other Eclipse models.

Other Nikon Biological Microscopes Reviewed
For more information covering Nikon's older and newer biological series check out the Optiphot, Labophot, and other Eclipse models.
If digital capability is a true necessity then discover Nikon Digital Microscopes - 80i and 90i models here.

Quick Summary
Utilizing the most advanced levels of technology, Nikon microscopes are quality, precision instruments.
The company's first hurdle in 1917 was to produce the highest quality optical glass and, today, Nikon is the only company that still maintains control over the glass used in their optical products.
The price points aren't low but the quality is high.
** The Nikon 50 and 55i have been replaced by the Nikon Ci series as of 2012. The new Nikon Ci microscopes come in the LED versions as well as a halogen version. The Nikon Eclipse 200 and 100 are now also available in LED. 
Return from Nikon Eclipse 55i, E200 to Nikon Microscopes Reviews 
Return from Nikon Eclipse 55i, E200 to Best Microscopes Reviews Home
Find out how to advertise on MicroscopeMaster!