American Optical Microscope

Quality, Improvements and Repair
Charles Spencer's optical design that would become known as the American Optical Microscope has stood the test of time.
This easy to use, compact light microscope has been and is still considered the standard teaching microscope for over 175 years.
Still available today, you will marvel at its quality workmanship and design. 


American Built
In 1938, Spencer created the first catalog listing for the American Optical microscope advertising it as a reliable scientific instrument.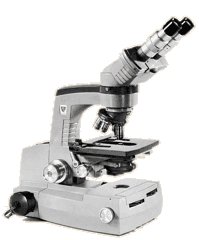 AO-20 Microscope from pirx.com
Spencer's microscopes were easy to use, having only one set of lenses to magnify objects.
As demand for his products increased he started the C.A. Spencer and Sons Company later changing the name to Spencer and Smith.
Producing quality microscopes continued after the company changed its name to the Spencer Lens Company in 1895.
By 1935, demand for Spencer's microscopes had grown exponentially and the company was purchased by American Optical in 1935.
Now using the Reichert name since selling the American Optical name several years ago now. Many say the days of the great American Optical Microscope were over in the mid 1970's.
From this time period, American Optical produced sturdy, hard-working microscopes known for serious quality.


Qualities
The microscopes built by Spencer are simple instruments designed to allow light to pass through objects allowing the user to see the structure and details of that object.
In order for light to pass, the object needs to be smeared on a glass slide or smashed for viewing.
This type of microscope uses two primary lenses one at the top of the tube, called the eyepiece and one at the bottom called the objective lens. These two lenses working together allow very small objects, smears and small living creatures to be examined up close.
Light was originally sent through the slide by the use of a mirror but today a high intensity compact light bulb is used.


Improvements
Today, the microscope designed by Spencer has not undergone many changes. In fact, many of the older microscopes, produced by this company, are still functional and being used somewhere in the world.
In 1961 minor improvements to the objective lenses occurred.
Using modern manufacturing technology, the objective lenses were corrected to provide increased strength allowing for larger tube lengths.
Other improvements included phase lenses that provided higher definition of samples when properly stained, and this allowed the company to add additional microscopes to their line of quality scientific instruments.
Staying on top of new developments, Leica acquired American Optical by merger and continues to manufacture some of the best standard, and next generation, scientific and educational microscopes.


Repair
The durability and ease of use has allowed many American Optical Microscopes to continue being used for decades. Optical repair and replacement parts are available from many sources for these microscopes.
Check out eBay, there may be a surprise waiting there for you.
Manuals are also available online.
This quality and affordable instrument is capable of serving the needs of many scientific fields including biology, botany, some areas of metallurgy, chemistry and earth science.
For those needing an older microscope by American Optical, the search may not be too difficult since many times these instruments are available through estate sales, educational facility auctions and online sources such as eBay.
In addition, keeping an American Optical in top working order is not difficult and should a replacement part be needed it is good to know they are available. 
The American Optical microscope has stood the test of time, proving itself durable and functional for over a century.
Quality, affordability and ease of use are just a few of the many reasons this instrument is still used today. 
AO Stereo Microscope - their line of stereos are still representative of a time in the industry when microscopes were introduced with ruggedness and elegance combined
Check out more: Antique Microscopes, Bausch and Lomb Microscopes, Wild Microscopes, Leitz Microscopes
Return from American Optical Microscope to Compound Light Microscope 
Return from American Optical Microscope to Best Microscope Home
Find out how to advertise on MicroscopeMaster!