The AO Stereo Microscope


American Optical - A Collectors Treasure 
American Optical or the AO Stereo Microscope, is one of the oldest names in the American optical industry.
Its beginnings can be traced back to 1833 when a jeweller called William Beecher in Southbridge, Massachusetts (MA) saw a pair of eyeglasses imported from Europe and thought that he could make them better.
Slightly later in 1838, Charles Spencer formed the Spencer Lens Company after he was the first American to perfect the microscope and optical lens.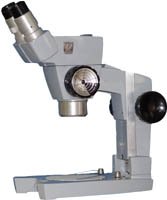 AO20 Cycloptic Stereo Microscope from MartinMicroscope.com


Both companies continued to develop and refine their respective products until 1935 when American Optical purchased the Spencer Lens Company.
After the take-over, they continued to produce microscopes as AO Scientific Instrument Division.
During World War 2, their research laboratories started investigating other areas of optical design for the military, including gun sights, sunglasses and precision optics for military and industrial applications.
In 1967, Warner Lambert Pharmaceutical took over AO and after changing hands, and names, several more times finally settled on Reichert Technologies after a management buyout in 2002.
Like a normal microscope, a stereo microscope has two eyepieces, however unlike a standard microscope both of these have separate objectives lenses and see slightly different views of the object.
The result of this is an in-depth, three-dimensional image of the object that you can usually light from above or below.


Models Available
Unfortunately, while you can still buy used microscopes bearing the AO Stereo Microscope name, none have been made using that name in over 40 years.
They are now thought of as collector's items, and any in decent condition are usually snapped up by collectors quite quickly.
Reichert still manufacture and sell microscopes under the Reichert, Leica, Volpi and Spencer Industrial Products names.
The following are a selection of products that were made by AO or Reichert and have recently been available to buy in a used condition:
AO Series 10 and 20 (and Series 110 and 120)
Infinity correction, rather than 160mm as in previous models
34mm parfocal
AO Stereo Star/Zoom
Featured continually various magnification from 3.5x to 210x
AO Series 40
Designed for teaching science and biology
Reichert Stereo Zoom 580
Features 10x eyepiece and 1x to 6x magnification for total magnification of 10x to 60x
Reichert Stereo Star Zoom
Features 10x eyepiece and 0.7x to 3x magnification for total magnification of 7x to 30x
Used Price ~ $950
While these, and others are perfectly good examples of the type, they will lack some of the functionality available on the more modern devices.
There will be no facility for digital imaging or recording data to computer, for example.
The maximum magnification is also typically lower than for compound microscopes.


Manuals, Catalogs and Repair
There is certainly a lack of information on the internet regarding parts and repair of these microscopes, after all these are microscopes from the 1950s and 60s.
Follow the links below to the best of what we found -
Where can you find a comprehensive list of manuals and catalogs available for you to view online? Well, here is a webpage with what you might be looking for - xmission.com.
American Optical Microscope repair can be a challenge but ebay may be a good starting point to find parts at reasonable prices, obviously verifying the condition of the part first and foremost as well as seller reputation.
Check out this page on AO repair.
---
When they were first developed, AO Stereo Microscopes were an important step in the evolution of the microscope.
When you combine that with the good build quality and long service history many enjoyed, you can see where they have become as collectable as they are now.
Without the need for stereo capability, the american optical microscope for compound viewing can also be found on auction sites, that is if you act quickly. 
Check out our page on Antique Microscopes.
Return from AO Stereo microscope to Stereo Microscope 
Return from AO Stereo Microscope to Best Microscope Reviews Home
Find out how to advertise on MicroscopeMaster!