Dark Field Microscope


Buyer's Guide, Uses and Advantages
Here is a basic definition: a dark field microscope is arranged so that the light source is blocked off, causing light to scatter as it hits the specimen.
This is ideal for making objects with refractive values similar to the background appear bright against a dark background.
A researcher can achieve dark field by making modifications to his/her microscope.

What is Dark Field Illumination?

---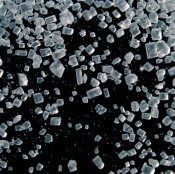 Dark Field illumination is a technique used to observe unstained samples causing them to appear brightly lit against a dark, almost purely black, background.
Pictured right: Highly magnified image of sugar crystals using darkfield microscopy technique
When light hits an object, rays are scattered in all azimuths or directions. The design of the dark field microscope is such that it removes the dispersed light, or zeroth order, so that only the scattered beams hit the sample.
The introduction of a condenser and/or stop below the stage ensures that these light rays will hit the specimen at different angles, rather than as a direct light source above/below the object.
The result is a "cone of light" where rays are diffracted, reflected and/or refracted off the object, ultimately, allowing you to view a specimen in dark field.

Dark Field Transformation
---
Most stereo and standard compound microscopes have the potential for dark field microscopy.
If a microscope has built-in elements to easily modify for dark field illumination, the manufacturer usually lists this amongst the observation specifications.
You can achieve dark field by using condensers, mirrors and/or a "stop." Some microscopes come with these accessories or researchers can purchase dark field kits, or even use some common items to adapt a microscope for dark field illumination.
In bright field illumination, the object is lit from below the stage, resulting in a larger, contrasted image that can be studied.
A dark field microscope blocks this central light with a condenser so that only oblique rays hit the object.
An Abbe condenser, for example, contains a concave orb that collects light rays in all azimuths that bounce off a sample to form a cone of illumination.
If there is nothing on the stage, the aperture of the condenser is greater than the objective and the view will be completely black.
A stop is an opaque object that blocks the central light when placed underneath the stage condenser.
This also causes light to scatter in all azimuths, resulting in a cone of light that allows for dark field observation.

Too expensive? What you can do...
---
If you do not have access to these accessories and cannot afford a dark field kit, there are alternative ways to adapt your microscope for dark field illumination.
The expensive stops are all made of opaque material.
Any possible substitutions cannot have any transparent properties.
One option is to use a circular object, such as a coin; adhere the coin to a larger disk and place below the stage.
You can also cut out a round piece of thick paper, such as construction paper, cardboard or poster-board, and attach to the condenser.
Whatever you use, the trick is to find the right diameter so that the makeshift stop will block the light and only allow the oblique rays to illuminate the specimen.

Advantages of Dark Field Microscopy
---
A dark field microscope is ideal for viewing objects that are unstained, transparent and absorb little or no light.
These specimens often have similar refractive indices as their surroundings, making them hard to distinguish with other illumination techniques.
You can use dark field to study marine organisms such as algae, plankton, diatoms, insects, fibers, hairs, yeast and protozoa as well as some minerals and crystals, thin polymers and some ceramics.
You can also use dark field in the research of live bacterium, as well as mounted cells and tissues.
It is more useful in examining external details, such as outlines, edges, grain boundaries and surface defects than internal structure.
Dark field microscopy is often dismissed for more modern observation techniques such as phase contrast and DIC, which provide more accurate, higher contrasted images and can be used to observe a greater number of specimens.
Recently, dark field has regained some of its popularity when combined with other illumination techniques, such as fluorescence, which widens its possible employment in certain fields.

Disadvantages of Dark Field Microscopy
---
A dark field microscope can result in beautiful and amazing images; this technique also comes with a number of disadvantages.
First, dark field images are prone to degradation, distortion and inaccuracies.
A specimen that is not thin enough or its density differs across the slide, may appear to have artifacts throughout the image.
The preparation and quality of the slides can grossly affect the contrast and accuracy of a dark field image.
You need to take special care that the slide, stage, nose and light source are free from small particles such as dust, as these will appear as part of the image.
Similarly, if you need to use oil or water on the condenser and/or slide, it is almost impossible to avoid all air bubbles.
These liquid bubbles will cause images degradation, flare and distortion and even decrease the contrast and details of the specimen.
Dark field needs an intense amount of light to work. This, coupled with the fact that it relies exclusively on scattered light rays, can cause glare and distortion.
It is not a reliable tool to obtain accurate measurements of specimens.
Finally, numerous problems can arise when adapting and using a dark field microscope. The amount and intensity of light, the position, size and placement of the condenser and stop need to be correct to avoid any aberrations.
Dark field has many applications and is a wonderful observation tool, especially when used in conjunction with other techniques.
However, when employing this technique as part of a research study, you need to take into consideration the limitations and knowledge of possible unwanted artifacts.

The Major Manufacturers
---
The major microscope manufacturers all have devices capable of dark field illumination. Depending on the make/model, the microscope may come with attachments or have the options for dark field accessories.
The major companies are:
Nikon
Olympus
Ziess
Leica
Meiji
In addition, lesser known smaller companies that produce dark field microscopes are Quanfa Scientific Instrument Company, Proway Optics & Electronics and Dewinter Optical Inc.
The leading innovators in microscopes are Nikon and Olympus, who both offer stereo and compound microscopes with dark field capability and/or accessories.

Other Great Brands
---
See our reviews:
OMAX 40X-2000X USB3 14MP PLAN Trinocular Darkfield Super Bright LED Lab Microscope
OMAX 40X-2500X Brighter Darkfield LED Trinocular Compound Microscope with 9MP Digital Camera
Omax 5MP Digital 40X-2500X Advanced Oil NA1.25 Darkfield Trinocular microscope

OMAX 40X-2000X USB3 14MP PLAN Trinocular Darkfield Super Bright LED Lab Microscope for Live Blood

Conclusion
---
A dark field microscope can offer brilliant, light images against a dark background of otherwise difficult to view specimens.
Most standard microscopes come with dark field capabilities or accessories to enable this illumination technique.
There are many practical applications of dark field, especially in the field of marine biology, in viewing the many specimens you cannot see using alternative techniques.
However, a researcher must keep in mind the potential issues and limitations that may arise from dark field illumination.
For further information, check out the many microscopy imaging techniques available. 
Return from Dark Field Microscope to Compound Light Microscope 
Return to Best Microscope Home
Find out how to advertise on MicroscopeMaster!