Olympus Stereo Microscopes
MVX10, SZX16 and SZX10
Olympus Stereo Microscopes are specifically designed for research use.
Using two separate optical paths, a stereo microscope has the ability to simultaneously focus on the same point from different angles and gives a three dimensional quality to the image.
These scopes may be used for brightfield, darkfield, polarization, and fluorescence imaging.



Olympus Stereo MVX10
---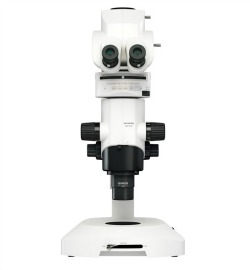 Designed for biological, geological, forensic, and environmental applications, the Olympus stereo MVX10 is a research grade fluorescence microscope with a viewfield up to 55mm and zoom ratio of 31:1. When the 0.63X and 2X objectives are employed the zoom capability gives magnifications from 4X to 125X.
As mentionned, at research grade this scope can be used for brightfield, darkfield, polarization, and fluorescence imaging.
Significantly, this scope has the typical long working distance and widefield of a stereo microscope combined with the high numerical apertures of a compound microscope that allows it to be an effective fluorescence platform.
This version of an Olympus stereo microscope has a high degree of fluorescence detection even at low magnification.
The widefield eyepieces are adjustable to 23 degrees of inclination for user comfort and are able to be independently focused.
The observation tube allows the user to choose between having the stereo effect on or off. Mated with a two position revolving nosepiece the planapochromatic objectives, 0.63X, 1X, and 2X are specifically designed for the MVX10 and have numerical apertures of .15 to .50.
The 2X objective has a correction collar for manual aberration correction and has a resolution of 1500 lines /mm.
Additional features include:
Transmitted light illumination – The MVX10 can use either a 30W halogen bulbs or a 150W fiber optic illuminator.

Fluorescence Illumination -- Dichromatic mirrors, a four position turret for the filter blocks designed to absorb stray light, and an objective that act as both the imaging and illuminating lens support fluorescence microscopy. Also, a 100W mercury or 75W xenon lamp in a lamphouse that has an aspherical and apochromatic corrected collector lens completes the package.
Focusing – These

Olympus microscopes

have a motorized focusing at a rate of 0.3 to 1.5mm/second and a resolution of one micrometer.
Stage – The mechanical stage has coaxial X and Y controls and can support an object weighing up to 1000 grams. A circular rotary stage and a heated stage are also available for these

Olympus microscopes

.
These Olympus stereo microscopes are a compromise of features in that either 100% of the light may be sent to the binocular tubes or to the camera. Many microscopes in this class have the ability to fractionally split the light to allow simultaneous photomicrography in combination with visual observation through the binocular head.
Another double-edged sword aspect of this microscope is in the area of the stereo microscope/fluorescence imaging compromise. In other stereo microscopes fluorescence use is impaired because each optical path gets only half of the transmitted light and this reduced illumination degrades the fluorescence signal detection and imaging.
This microscope overcomes that problem by having a single optical path with a different method for dividing the light however, this reduces the three dimensional effect for which stereo microscopes are famous.



Olympus Stereo SZX16
---
The SZX16 is also a research grade Olympus stereo microscope that shares many of the MVX10's features.
While it is an advanced research microscope it does not have the same performance as the other scope. It has a maximum numerical aperture number of .30 and a resolution of 900 line pairs/mm.
It also may be used for brightfield, darkfield, fluorescence, and polarized light imaging and has six available objectives with the four standard parfocal lenses having magnifications of 0.5X, 1X, 1.6X, and 2X.
Combined with a zoom ratio of 16.4:1 this yields a zoom range of 7.0X to 115X for easily shifting from a specimen overview to detailed examination. Using the SDFPLAPO2XPFC objective with the WHN 10X ocular can increase the zoom to a maximum of 230X.
As with the MVX10, this version of an Olympus stereo microscope has a long working distance facilitating manipulating the specimen or otherwise having room for the user's hands under the objectives.
This unit also has a revolving turret holding two objectives at a time.
For fluorescence imaging, the reflected light illuminator provides homogenously bright light and these
Olympus microscopes have a five position filter turret with nine available filters capable of detecting even weak fluorescence at low magnification.
This model is ergonomically engineered to allow for comfortable extended use and has easily accessible controls. Additionally, other features of the SZX16 include:
Motorized features – The unit has an optional motorized focus and zoom with an available foot switch as well.
Digital imaging – The SZX16 has a tilting trinocular head that allows the user to switch between viewing and documentation. This unit is also able to use the Olympus cellSens digital imaging software.
Stage – The mechanical stage is wide to accommodate large objects such as petri dishes.
Illumination -- Different lamp bases are available to meet different lighting needs. The SZX2-ILLB and the SZX2-ILLK lamp bases, with built-in cooling fans, are best suited for oblique illumination. The SZX2-ILLD, also with a cooling fan, provides for bright darkfield illumination. For LED illumination, the SZX2-ILLT provides consistent illumination with no heat to damage delicate or living specimens.
The LED system has a bulb life of 10,000 hours and uses a fraction of the energy of a standard 30W halogen bulb.
While these Olympus stereo microscopes don't quite possess the performance level of the MVX10 it is a very sophisticated and versatile scope and is designed to meet the normal needs of the various forms of imaging used in microscopic research.

Olympus Stereo SZX10
---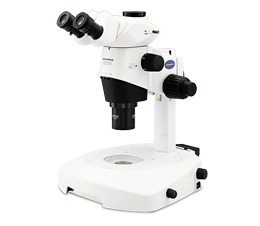 This Olympus stereo microscope although with a lessening of the advanced capabilities of the SZX16, is engineered for routine research use. With a zoom ratio of 10:1, the SZX10 has a numerical aperture of 0.2 and a resolution of 600 line pairs/mm.
This scope is well suited to measurement and verification tasks because the optical system is designed to eliminate any distortion. With a maximum magnification of 126X, this scope also has the typically long working distance of a stereomicroscope of 171mm.
Also offering a widefield view of 69.8mm, this scope can be used for brightfield, darkfield, polarization, and fluorescence imaging and has eight available objectives.
For illumination this scope also uses the SZX2-ILLB, SZX2-ILLK, SZX2-ILLD, and SZX2-ILLT lamp bases.
The observation tube can be inclined up to 45 degrees and the eyepieces are individually adjustable. With a trinocular head, this scope is a good imaging platform and can accept the Olympus cellSens digital imaging software.
Observation accessories for the SZX10 include an optional side-by-side discussion tube for instruction or consultation with another researcher as well as a face-to-face tube enabling the secondary observer to assist the user in tasks under the turret.
A drawing attachment is also available to aid in sketching specimens.

---
These Olympus Stereo microscopes - MVX10; SZX16 and the SZX10, may be used for brightfield, darkfield, polarization, and fluorescence microscopy.
They excel as stereo microscopes in the field of fluorescence use because they are able to detect low excitation in low magnification levels and still retain some degree of the trademark three dimensional effect of a stereo microscope.
Official Site: Olympusamerica.com
---
Return from Olympus Stereo Microscopes - MVX10, SZX16 and SZX10 to Olympus Stereo Microscopes.

Check out our Olympus Microscopes Review Page - Several Olympus models reviewed and compared here!

Return to Microscope Master Home
Find out how to advertise on MicroscopeMaster!