Olympus Microscopes



The BH2; BX41 and BX51 Models Review
Known for innovation and versatility, the Olympus Microscopes are making the Olympus Corporation a global leader in microscopes.

Takeshi Yamashita, a man interested in the development and manufacturing of microscopes, founded Olympus in 1919 in Japan.
It took over thirteen years for his dream to come to fruition and, in the spirit of the mountain and myth the company was named after, Olympus has maintained a reputation for high-quality, strong, durable products.
The Olympus Corporation's mission is to "illuminate the world with its optical devices."
The success of this mission is shown in their wide range of optical products, including microscopes, video and digital cameras, binoculars and medical devices such as endoscopy and ultrasound products. 


Olympus BH Series
The BH Series marked a significant turning point in Olympus microscopes.
The BH design was a bold and significant departure from previous Olympus models as well as markedly different from competitors.
Produced in 1974, the BH was the first Olympus microscope to have coaxial handle located on the stage and to have the stage move horizontally and vertically along the XY axis.
The BH series is also the first to incorporate Olympus' UIS (universal infinity system). Infinity systems changed the way light was focused onto a specimen and became an industry standard.


The BH-2
The BH-2 Olympus microscope, developed in the 1980s, was a successful step up from the initial BH model both in the laboratory and commercially, holding the highest share in the global market.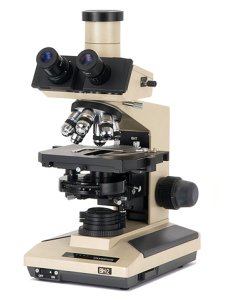 from olympus-global.com
The BH-2 came with a Long Barrel (LB) objective and, combined with UIS, corrected chromatic aberration and increased the quality of photomicrography.
The LB improved the image quality of all observations, including bright field, dark field, polarization, fluorescence and phase contrast.
Research and educational labs often prefer the BH-2. The compact size, durability and affordability made it an especially attractive choice for schools.
One of it's many appealing accessories, for researchers and educators alike, was a group observation attachment that enabled up to five people to view a specimen simultaneously.
Due to the number manufactured and sold, the solid construction and availability of parts and refurbished models, the BH-2 Olymous Microscope is certainly not obsolete.
This is also, in large part, because of the accessories and ability to customize the microscope to meet specific laboratory and research needs.



Olympus BX Series - BX41 & BX51
As a positive upgrade from the BH-2 is the BX Series of Olympus microscopes, launched in the early 1990s, built upon the success of the BH-2 with an amazing set of features, ideal for high-end researchers and clinicians.
BX microscopes are equipped with UIS2 Optical System. The UIS2 minimizes image distortion and increases image quality.
Other benefits include aberration-free performance, increased NA, concentrated illumination and an eco-friendly design.
Completely lead-free, the UIS2 is made out of a glass and is not only an environmentally sound option, it allows for clearer, brighter, beautifully contrasted images with little to no noise.
In addition to being versatile, the UIS2 accommodates all Olympus microscopes.
Common to the BX41 and BX51 models are the following features:
Y-shaped frame with easy access controls adjustable for right/left hand
Ceramic-coated, rotating, torque mechanical stage
XY stage control
Low-positioned fine/coarse controls
Ergonomic design and attachments, including risers and tilting eyepieces
Multiple turrets and condensers
Photo-tube accessory for video and film cameras
Both models also have multiple condensers to allow for an array of contrast techniques, including bright field, dark field, DIC, polarization and phase contrast.
The BX41 has a wide-range of applications and is especially suited for clinical research.
Specifications unique to this model include a large fine-focus knob that can be moved to the right or left side and a 6v-30w halogen Kohler lamp with pre-set buttons for convenient photo documentation.
The BX51 is a research model that melds the UIS2 technology with advanced fluorescence (DIC) technology.
Like other Olympus microscopes, this new model is able to offer leading technological advances and a variety or different applications and accessories without being cumbersome or difficult to operate.
Additional specifications for this microscope include:
12v-100w halogen Kohler lamp
2 neutral density filters: daylight and optional fluorescence filter
Fluorescent application to double brightness
3 DIC prisms to achieve 3 levels of contrast and resolution
8-position universal condenser
Multiple peripherals, including the FlouView scanner
Dual-ports to accommodate cameras
Multi-headed viewer that accommodates up to 10 people
All components of the BX51, not limited to the stage, eyepieces and light sources, can be customized, making this model the most versatile and adaptable to individual users.
The BX51 does come with a few disadvantages, most notably the awkward position of the stage knob next to the light control and difficulty cleaning oil off of the ceramic stage.
However, most scientist and clinicians, especially in light of all the advantages this microscope has to offer, would consider these minor issues at most.
While continuing your research of Olympus' BX series feel free to follow the link: BX43; BX53; and BX63 in review.



In Summary
Olympus microscopes demonstrate a high standard of excellence in design, performance and versatility.
Olympus has shown a respect for the environmental with its glass UIS2 Infinity System, plus an understanding of ergonomics with adjustable viewing elements, low-position of controls and possibilities for customization.
The older Olympus microscope designs, such as the BH-2, are still popular, widely used microscopes and the newer BX and CX Series models show the company's commitment to cutting-edge technology and design on all levels of affordability.
We have examined only a few compound microscope models from this manufacturer on this page and will be dedicating further pages to other models including their stereo microscope designs soon, so please check back often.
To research Olympus' different microscope product lines, we have dedicated a page to olympus microscope reviews. 
Official Site: olympusamerica.com
---
Return from Olympus Microscopes to Compound Light Microscopes 
Return to Best Microscope Reviews Home 
Find out how to advertise on MicroscopeMaster!